GS1 Barcode Assistance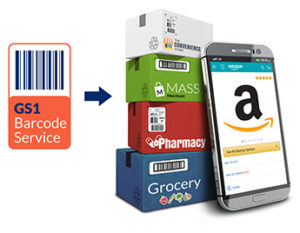 UPC Barcodes from GS1 enable products to be sold in stores & online
Most retailers and online marketplaces, including
Amazon
, require UPC barcodes with a GS1 Company Prefix registered to the supplier (brand owner). Bar Code Graphics facilitates both the process of creating UPC barcodes with a licensed UPC Company Prefix directly from the GS1 US and managing the UPC product data.
High resolution digital barcodes files (.eps) and verified printed barcode labels are included.
Our certified GS1 Standards and Barcode Professionals assist and educate thousands of companies each year with item identification and will ensure your UPC barcodes are properly assigned, created, and registered in global product databases. Since barcode identification is new and complex for most companies,
personal customer support with an assigned consultant is included for one year
.
To begin, estimate the total number of unique items you need to identify.
Products which come in different sizes, packaging and color commonly are assigned unique UPC barcodes. Select from the choices below based on the total number of UPC barcodes required. Please call (800)662-0701 x250 for assistance.
Select Quantity Below